Since the department was established to offer degree courses in the 1960s, the three thematic sub-disciplines of Human Geography namely: Population Geography, Demography and Medical Geography have been offered to both students of science and humanities as courses in geography and environmental studies. The three thematic sub-disciplines share a lot in content and methodology because they focus on population size, distribution, density, growth rate, human well-being and activities that characterize human landscape on a spatio-temporal context.
Population Geography emphasizes human-environment interactions. In this context, Population Geography examines human activities (livelihoods and non-livelihood) that impact on natural resources and resulting landscapes with emphasis on population size, distribution, density, growth rate and migration. It relates these to perception of environmental utility, vulnerability (risks) and degradation in order to identify policies and programmes for sustainable development. The methodology of Population Geography is influenced by knowledge and skills in cartography, Geographical Information Systems (GIS), statistics, computer application and fieldwork techniques.
Demography is the statistical analysis of parameters of population changes, namely, fertility (births); mortality and morbidity (deaths and diseases); migration; and estimates to future levels of these parameters. Demography focuses on the determinants of age-sex structure and composition by examining how socio-economic, cultural and political factors determine population growth rate, movements and other characteristics of population such as levels of income, education and marriage, among others. Its methodology is therefore highly mathematical, statistical and sociological in approach, as well as heavily depending on computer applications. Demography also examines policies and programmes that help to influence population age-sex structure for sustainable development.
Medical Geography is the science of etiology diseases. It is closely related to Population Geography and Demography. Medical Geography emphasizes spatial diffusion of diseases and relates such events to environmental conditions and human spatial behaviour. It examines how diseases vary in importance (ranking) as a society modernizes. Demography also examines policies and programmes that promote environmental health in order to better human well-being.
HEAD OF THEMATIC AREA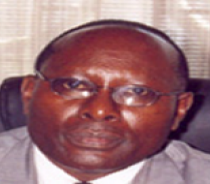 ---
MEMBERS OF THEMATIC AREA
---
RESEARCH PROJECTS & CONSULTANCIES
---
CONFERENCES
---
DEGREE PROGRAMMES & RELATED COURSE UNITS
DEGREE PROGRAMMES
COURSE UNITS
---
POSSIBLE CAREER OPPORTUNITIES
Population experts
Demographers
Planners
Environmental experts
Researchers