Department of Geography & Environmental Studies Students Participate in SLUSE International Field Class, 1st March to 12th March 2019 AT KIBUGU, EMBU COUNTY.
Sustainable Land Use and Management (SLUSE) is an interdisciplinary experiential field course where students from different disciplines are presented with an opportunity to bridge the gap between theory and practice.  In addition, the students experience cultural diversity as they are hosted by local families for the duration of the field course. The program is a collaboration between University of Nairobi (Wangari Maathai Institute for Peace and Environmental Studies as the host, Department of Geography and Environmental Studies, with University of Copenhagen and University of Roskilde, Denmark. Five  graduate students from the department (Matthew Muruana, Caroline Kerichu, Nelly Dama, Lunalo Cletus and Millicent Wairimu) undertaking Masters studies in the department of Geography & Environmental Studies  participated in the 2019's SLUSE field course, which was held in Kibugu location in Embu County between 1st March and 12th March 2019. The course featured 34 students from different nationalities – 18 from The University of Nairobi and 17 from both the University of Copenhagen and the University of Roskilde.
The SLUSE field course that is coordinated by Dr. Thenya involved University of Nairobi staff  including Prof. Henry M. Mutembei- Director WMI Prof. Nzioka J. Muthama, deputy director, Dr Jane Mutune, Dr Cecilia Onyango, Dr Karatu Kiemo and Ms. Lilian Kong'ani who are all faculty members at Wangari Maathai Institute. Supervisors from the University of Copenhagen and University of Roskilde were Prof. Christian Pilegaard Hansen and Prof. Dorette Sophie Müller-Stöver.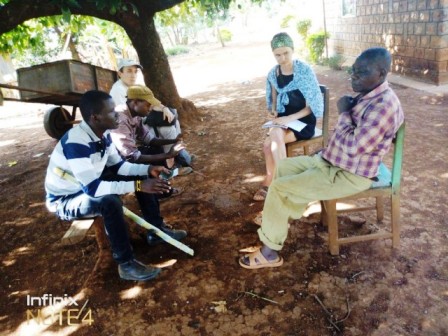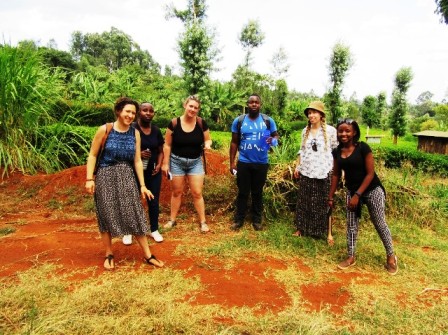 Students on soil fertility group during field work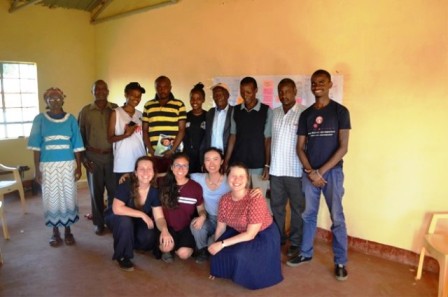 Students with farmers after a Focus Group Discussion  on macademia at the chief's camp