Enhancing partnership with SORALO
The Department of Geography and Environmental Studies enhanced its partnership with SORALO (South Rift Association of Land Owners) through a well-attended seminar on 12th April 2019. The SORALO team led by Mr. John Kamanga and Ms Samantha Du Toit gave a presentation on SORALO, while Peter Tyrrell, PhD candidate affiliated to SORALO and the Department, gave a presentation on "social-ecological dynamics at the livestock-wildlife interface in an African savannah". The seminar was part of collaborative activities between SORALO and the Department. The seminar was organized by the Chair, Dr. Boniface Wambua, Prof. Elias Ayiemba and Prof. Samuel Owuor.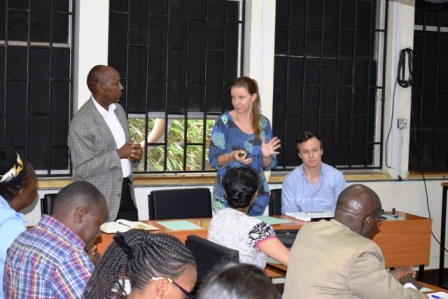 SORALO stands for the South Rift Association of Land Owners, a formally registered Trust that was created in 2004 in order to provide a legitimate body to represent the needs of land owners and push for joint management of 15 group ranches which form the bridge between the famous Amboseli and Maasai Mara National Reserves. It is a community based and a community driven initiative whose primary role is to bring land owners together for effective management of resources in order to directly improve livelihoods, network and assist in resource mobilization for the development of the South Rift Valley region, all while taking into consideration the key threats and challenges in the area.