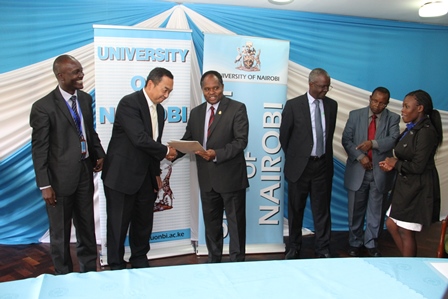 Annual Scholarship Awards
FoodMetres Project Meeting
A World-Class University Committed to Scholarly Excellence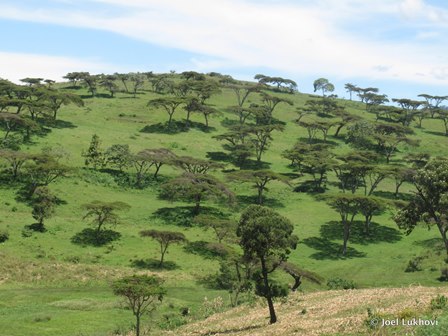 Geography Students Participating in World Environment Day
Geography Students in World Environment Day
Leading from the front: Commemorating the Paris Climate Change Agreement and COP 22
Submitted by oliver.ogembo on Mon, 2016-11-28 15:13
The University of Nairobi (through the Department of Geography and Environmental Studies) in collaboration with the United Nations Environmental Program (UNEP) hosted an educational awareness session to commemorate the Paris Climate Change Agreement and CoP 22. The celebrations which were held on November 14, 2016 marked the adoption of the Paris agreement on climate change which came into effect in 2015 after 177 state parties ratified it. The event challenged students, researchers and communities to put in more effort to deal with the diverse effects of climate change – the focus being water, food security and financing. The Department wishes to thank the coordinating committee of Ms Parita Shah; Prof. George Krhoda; Prof. Elias Ayiemba; Dr. Stella Mukhovi; The Vice-Chancellor's Office; and Mr. Brian Waswala (UNEP).
On 4 November 2016, the Paris Climate Change Agreement adopted in 2015, entered into force. This Agreement calls upon all nations to combat climate change and to unleash actions and investments towards a low carbon, resilient and sustainable future that will keep a global average temperature rise well below 2° (degrees) Celsius with the accepted international aim of working to limit it to 1.5° degrees Celsius. Kenya, a signatory to the Agreement, has made great strides in enhancing climate change resilience and low carbon development for sustainable development. These include the launch of the Kenya Green University Network (KGUN) and enactment of the Climate Change Act in February and May 2016, respectively.
As a contribution to UN Environment's ongoing cooperation with Kenya's National Environment Management Authority (NEMA) and the Commission of University Education (CUE), the event marked the enactment of the Paris Agreement with students and academia. The day also marked the Education for Sustainable Development Day at COP 22. The student-led celebration will revitalize the role of universities as living labs, centres of excellence in research and innovation to address sustainability challenges; advocate for low carbon campus development; accelerate the transition to clean energy sources; and compliment Kenya's national goals in addressing climate change.