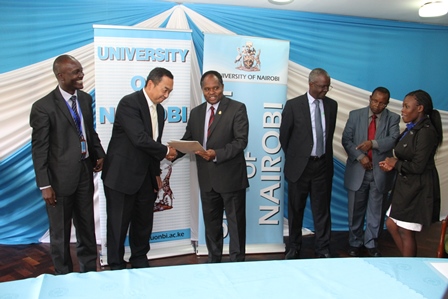 Scholarship Award Meeting.
Department Represented in Summit meeting
UoN Ranked No 7 in Africa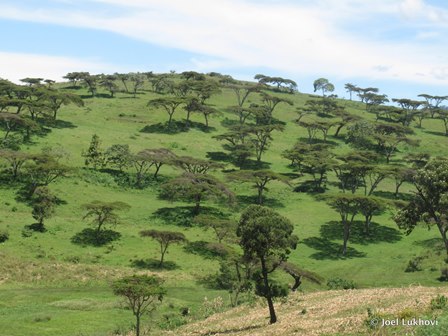 Departmental Field Trip in Western Kenya.
UNGSS Tree planting Ceremony During World Environment Day
UNGSS During World Environment Day
DoGES graduate student attends the international SLUSE field course
Submitted by oliver.ogembo on Fri, 2016-04-22 16:34
Benson Mudenyo (front in red), who is a Biodiversity and Natural Resources Management (BNRM) graduate student in the Department of Geography and Environmental Studies attended the 2016 International Sustainable Landuse (SLUSE) field course organized by the Wangari Maathai Institute of Peace and Environmental Studies (WMI) at University of Nairobi in collaboration with University of Copenhagen, Denmark. The field course was undertaken in March 2016 in Nyeri County as part of the commemoration activities for the Wangari Maathai Day. The course was organized by Professor Morten Ebbe of University of Copenhagen in collaboration with Professor Stephen Kiama Gitahi (Principal CAVs), Dr. Jane Mutune (WMI) and Dr. Thuita Thenya of the Department of Geography & Environmental Studies at University of Nairobi among others. The course was attended by graduate students from the two universities.
Public commemoration of the Wangari Maathai Day at Langata Primary School
SLUSEcourse field excursion in the slopes of the Aberdare ranges
SLUSE course farm visit) in Gatugi, Othaya County
SLUSE course outdoor discussion at the Green Belt Movement (GBM) Centre in Lang'ata
SLUSE course field discussion in Gatugi village, Othaya County
SLUSE course group presentation in the Othaya CDF Hall