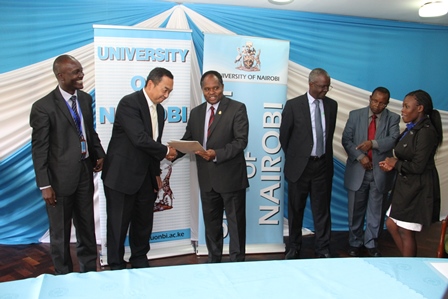 Annual Scholarship Awards
FoodMetres Project Meeting
A World-Class University Committed to Scholarly Excellence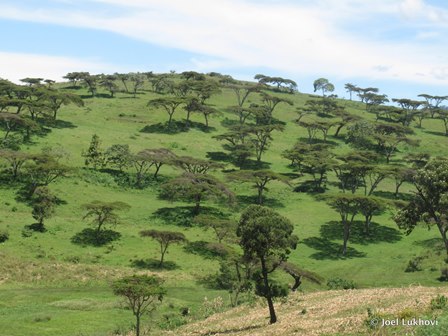 Geography Students Participating in World Environment Day
Geography Students in World Environment Day
Contributing to the conservation of Maasai Mara ecosystem
Submitted by oliver.ogembo on Fri, 2016-01-29 15:13
The High Level Advisory Board (HLAB) of the Maasai Mara Science and Development Initiative (MMSDI) was unveiled at a meeting held at the University of Nairobi, Kenya. MMSDI is an international, multi-stakeholder network aimed at creating systemic change in the Maasai Mara ecosystem through interdisciplinary research and development activities. The major stakeholders are: University of Nairobi, Maasai Mara University (Kenya), Aarhus University (Denmark), Justus Liebig-Universität Giessen (Germany), the Karen Blixen Camp Limited and the Mara Rianda Community (Maasai Mara), among others.
The members of the HLAB are: Prof. Peter Mbithi (Vice Chancellor, Unversity of Nairobi); Dr. Alice Kaudia (Environment Secretary, Ministry of Environment, Water and Natural Resources); Dr. Moses Kipngeno Rugutt (Director General, National Commission for Science, Technology and Innovation); Dr. Richard Leakey (Chairman, Kenya Wildlife Service); Hon. Samuel Ole Tunai (Governor, Narok County); Hon. William Ole Ntimama (Former Narok North Member of Parliament & Cabinet Minister); Mr. Nicholas Ole Murero (Community Representative); Mr. Geert Aagaard Andersen (Head, Global Green Growth Forum, Ministry of Foreign Affairs, Denmark & Former Danish Ambassador to Kenya); and representatives from other partner universities.
Speaking during the meeting, Prof. Mbithi noted that Kenya is a great tourist destination courtesy of Maasai Mara, the seventh wonder of the world. "Maasai Mara is a treasure and all of us need to play a role in its conservation", he said. He added that the university needed to dissolve the ivory tower mentality and share research output with the community. He noted that the Constitution of Kenya has given academic institutions a great chance to participate in community initiatives. He urged other institutions of higher learning to work together with the communities around them. The functions of the board include providing institutional support to the initiative, lobby the government support for research action and fundraise for the research action. Among those present during the meeting were Prof. Lucy Irungu, Deputy Vice-Chancellor, Research, Production and Extension.