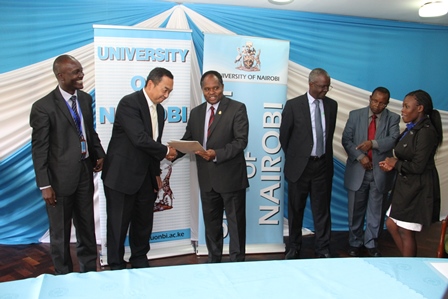 Scholarship Award Meeting.
Department Represented in Summit meeting
UoN Ranked No 7 in Africa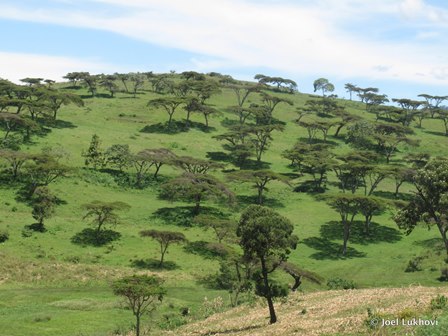 Departmental Field Trip in Western Kenya.
UNGSS Tree planting Ceremony During World Environment Day
UNGSS During World Environment Day
Geomorphology
Geomorphology is the study of landforms, the processes that create them and impact of humans on the physical environment. The discipline is considered to be part of physical geography and closely related to geology since both share the prefix "geo", a Greek word for "earth", and for a long time was a department in the "schools or faculties of Earth Sciences". The study includes origin of the earth, evolution of landforms and internal and external factors that govern land formation. The discipline was originally descriptive and fragmented. Recently the discipline has placed emphasis on measurement of processes, has developed rigorous data analysis and modeling. It is no wonder that many people perceive geomorphology as the study of rocks, Prof. Krhoda contends, because history of life on earth is embedded in a rock. Students of geomorphology usually have an appreciation of the environment and impact of man and therefore have a very solid base in environmental planning and management, natural resources management, especially water resources, and geographical research. Many students also end up teaching geography in schools and colleges.
---
HEAD OF THEMATIC AREA
---
MEMBERS OF THEMATIC AREA
---
RESEARCH PROJECTS & CONSULTANCIES
---
CONFERENCES
---
DEGREE PROGRAMMES & RELATED COURSE UNITS
DEGREE PROGRAMMES
COURSE UNITS
---
POSSIBLE CAREER OPPORTUNITIES
Geomorphologists
Environmental scientists
Experts on environmental planning and management
Experts on natural resources management
Planners
Researchers
---
NEWS, EVENTS & OUTREACH ACTIVITIES
---
PHOTO GALLERY