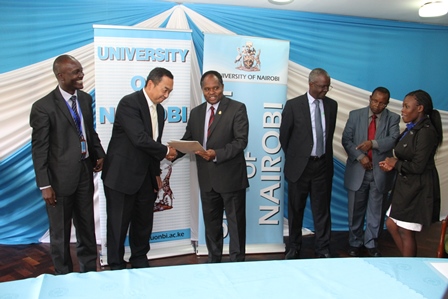 Annual Scholarship Awards
FoodMetres Project Meeting
A World-Class University Committed to Scholarly Excellence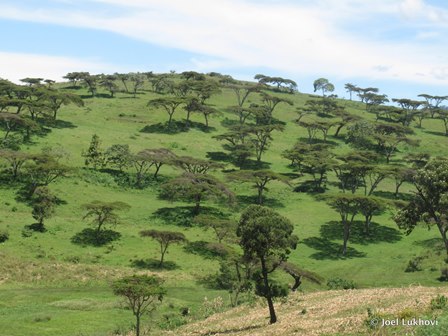 Geography Students Participating in World Environment Day
Geography Students in World Environment Day
CHINA THINK TANK
Submitted by oliver.ogembo on Mon, 2018-11-12 17:18
VISIT TO CHINA BY THINK TANK DELEGATION FROM AFRICAN COUNTRIES
Between October 21st 2018 and November 1st 2018, Prof. Evaristus M. Irandu, a Full Professor in the Department of Geography and Environmental Studies visited China as a member of the Think Tank delegation from African countries(Photo 1). Prof. Irandu was invited to China courtesy of the Chinese Embassy of the Peoples Republic of China in Kenya to familiarize himself with major development projects being undertaken by the country in pursuit of being a global economic power. He has been carrying out research on the Standard Gauge Railway (SGR) and a consultant for the African Economic Research Consortium (AERC), an African Think Tank funded by China.
Although China is classified as a developing economy, it has made great strikes towards pulling millions of her population from abject poverty and in modernizing her agriculture and manufacturing sector. For example, in the last forty years the country has pulled 770 million people out of poverty. On the average, it targets to pull 20 million people out of poverty annually.
The main drivers of China's rapid development: include:
Targeted poverty alleviation
Modernization of agricultural sector
Green economy
In all the villages we visited, it was apparent that China has targeted poverty alleviation as a way of creating a fair, just and equal society. The country has many valuable lessons that African countries can learn from and implement in order to attain meaningful development. We visited local poverty alleviation projects in Xingtang Prefecture, Hebei Province and were very impressed by what we saw. In one Industrial Park, the Chinese Communist Party has empowered physically challenged persons by providing them with highly specialized training (Photo 2). The physically challenged persons whether blind, deaf or disabled were trained to produce goods and/or services of very high quality such as textiles and ICT services. The products are sold in the large Chinese domestic market. This provided the physically challenged people with a livelihood and went a long way in alleviating poverty. Adequate and decent shelter has been provided for all the citizens. Rural accessibility has been improved to facilitate fast movement of farm inputs and delivery of farm produce to the local markets. All modes of transport have been developed to very high standards throughout the country.
Photo 2: Attacking poverty by empowering physically challenged persons through training
Photo 3: Professor Evaristus M.Irandu standing in front of a door inscribed Kenya in Chinese.
China has modernized her agricultural sector making it highly productive. Despite being the most populous country on earth with a staggering 1.3 billion people, China does not face any serious food security threat. In virtually all the rural counties, farming is highly scientific with greenhouses dotting the rural landscape. Organic farming is encouraged and farmers are well trained on waste management, pollution control and integrated pest management. High yielding varieties of seed are used to ensure higher crop yields. A wide variety of vegetables, cereals and fruits are grown in the different agro-ecological zones of the huge country. Most of the food produced is consumed locally or sold in large cities such as Shanghai and Beijing.
Value addition of agricultural raw materials is also encouraged in many villages For example, in Jinhua area of Zhejiang Province we were treated to an interesting form of value addition from rice crop. The local people produce white and yellow wines from rice. This enhances income earning opportunities for the local communities. This is a form of value addition that has potential in the rice producing areas of Africa. Rice production and wine making are part and parcel of Suoyuan's cultural heritage (Photos 3 & 4).
Photo 4: Preparation of wine from rice in Suoyuan Cultural Heritage Centre.
China attaches a lot of importance to sustainable development and especially agenda 21. In most of the manufacturing industries visited, green energy such as electricity and solar energy were used. This was particularly so at the Jinhua Growth pole, an economic and technical zone established in 1992. This pole supports about 500, 000 people. It has industrial parks which encourage industrial agglomeration and create many jobs for the local population.
Photo 5: Manufacturing biodegradable straws to replace plastic ones in Yiwu County, China.
A similar pattern of what has come to be known as green economy was also apparent at Yiwu County. Here, the manufacture of plastic straws has been replaced with biodegradable straws made from grass and reeds.
The delegates toured the country extensively and acquired valuable knowledge on how China is dealing with poverty alleviation, infrastructure development, food security and industrial development especially creation of industrial parks. Indeed, these could be valuable lessons for the African countries to learn as they chart their development paths.